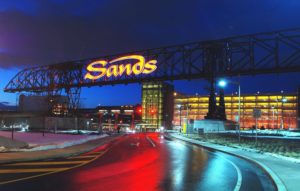 Join CD Trips for a fantastic Casino Royale and Christmas City Trip on Saturday, December 9th to the Sands Casino and Bethlehem, PA benefiting the Relay for Life – Team ACS Angels.  
SOLD OUT    


R/T Motorcoach
4 hours at Sands Casino
$30 pp Free Slot Play* & $5 pp Food Voucher*
Step on Guided Tour of Bethlehem Christmas City at night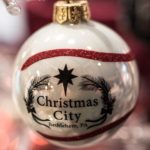 CD Trips Snack Pack and Snacks
Complimentary Bagel upon board motorcoach
CD Trips escort
Raffles and games
Feature movie
All parking fees and tolls
Bus Driver Gratuity and Lots of Fun.  
*Casino Package is subject to change
Last Licks Boxed Lunch (Optional) $12 per person which includes a sandwich choice of Grilled Chicken, Turkey, Roast Beef, Italian or Veggie with salad (mac or slaw), chips, cookies and water. 
Itinerary*
8:30   AM – Pickup in Monticello – Exit 105B – Thompson Square Mall
8:40   AM – Pickup in Rock Hill  Exit 109  Farmer's Market Parking Lot
8:55   AM – Pickup in Wurtsboro Park and Ride  Exit 113
9:10   AM – Pickup in Circleville Park and Ride Exit 119 Baker Road
9:30   AM – Pickup in Monroe Park & Ride Exit 129  Orange & Rockland Road Lot A
11:15 AM – Arrive Sands – Gamble, Shop, go to Cristkindlmarkt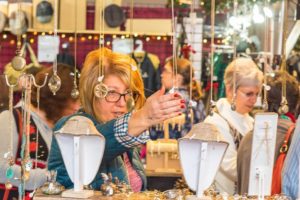 3:30   PM – Visit ChristKindlMarkt, Shop and Eat
4:30   PM – Step on Guided tour of Christmas City
5:30   PM – Shop and eat in Bethlehem
6:45   PM – Depart Bethlehem
8:30   PM – Dropoff in Monroe
8:50   PM – Dropoff in Circleville
9:05   PM – Dropoff in Wurtsboro
9:20   PM – Dropoff in Rock Hill
9:30   PM – Return to Monticello
*Itinerary subject to change.
About the Sands Casino and Resort
HISTORY
In 2007, Sands Casino Resort Bethlehem purchased the 126-acre former Bethlehem Steel plant, the largest brownfield site in the United States and opened the casino on May 22, 2009. The area was remediated in accordance with the site-specific environmental standard, which demonstrates their commitment to preservation. Putting the historical Bethlehem Steel site back into use represents a re-birth for the city, and can be used as a model for other communities across the country.
THE CASINO
Sands Bethlehem offers a wide variety of slot machines and there are 200 table games where you'll find the game you love!  From Baccarat to Roulette to Blackjack, there are so many ways to win.  
TABLE GAMES
Sands Bethlehem is home to a 30-table poker room with a wide array of action packed games available, including limit and no-limit Texas Hold 'Em; Stud; and Omaha, with limits starting at $3 and $6.   You will find all of your favorite games, including Craps, Pai Gow, Poker,Texas Hold'em Bonus, 3 Card Progressive Poker, Fortune Pai Gow Poker, Let It Ride Stud Poker, Caribbean Stud Poker, Mini/Midi Baccarat, Blackjack/Double Deck, Blackjack, Sic, Bo, Roulette, Big Six and Casino War. 
POKER ROOM
Sands Bethlehem is home to a 36-table poker room with a wide array of action packed games available including limit & no-limit Texas Hold 'Em, Stud, Omaha w/limits starting at $3 & $6.  Amenities in the Poker Room include Comfortable smoke-free environment, State-of-the-art technology, including 12 plasma TVs, adjustable chairs w/wheels for comfort, 24-hour table-side dining, Complimentary beverage service, Keep the momentum going with automated shufflers on every poker game, Bad Beat Jackpot available daily. Lose a hand and win big and Massage service
DINING
Emeril's Chop House – Tempt your palate with distinctive culinary creations at Emeril's premier restaurant on the East Coast.
Emeril's Italian Table – Emeril Lagasse serves up his signature take on the familiar Italian staples that he knows and loves.
Burgers and More by Emeril – Chef Emeril is putting his distinctive twist on your favorite American classics. Enjoy prime and grass-fed beef burgers, seafood, turkey and veggie selections and much more.
Carnegie Deli – Carnegie Deli captures the feeling and atmosphere of its famous New York location.
Chopstick – Chopstick Asian cuisine serves standout renditions of well known classics using only the finest and freshest ingredients.
Croissanterie – Enjoy the rich flavors and aromas of freshly-ground, slow-drip coffee brewed by the cup, and filled-to-order croissants, baguettes and more!
Joli Bakery & Café – Experience the rich tradition of French artisan breads and pastries, coupled with their one-of-a-kind, illy coffee. Team Joli creates the highest quality, natural products at The Outlets at Sands Bethlehem.
Steelworks Buffet & Grill – Experience a variety of fresh culinary dishes from around the world at Steelworks Buffet & Grill! Choose from our a la cart menu, or try our buffet featuring live-action cooking, artisan pizza, a pasta station, sushi, fresh-carved meats, and more!
The Market Gourmet Express – Enjoy a variety of tastes at the Market; Nathan's Famous hot dogs, juicy burgers, pizza, salads and sushi. Top it off with a sweet dessert or a coffee from our international coffee bar.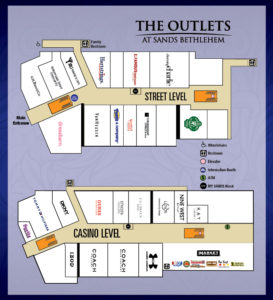 THE OUTLETS AT SANDS BETHLEHEM – PA's Newest Outlet Shopping Center
Just steps from the casino floor, hotel, and event center, the outlets feature all of your favorite selections at a fraction of the price. Score great deals by signing up for the Preferred Shopper program or by simply presenting your AAA membership card. Shop for the whole family at The Outlets at Sands Bethlehem – Where fashion meets fabulous!  Casino Level Outlets include Chico's Outlet, Coach Factory, Coachmen's Factory, DKNY, Guess Factory Store, IZOD, LENOX, The Puma Store, Nine West Outlet, Spritz Designer Fragrances, Tammy Hilfigerm, Talbots Outlet, Kay Jewelers and Under Armour.  Street Level Outlets include Cardinal Camera, Charming Charlie, Corningware Corelle & More, Dressbarn, European Boday Concepts Day Spa, Famous Footwear, GH Bass & Company, Hartstrings, Joli Bakery & Café, Kids Quest/Cyber Quest, Limited Editions Eccoci Collections, Old Farmer's Almanac General Store, Peeps & Company, Vanheusen, and Friendly Communications 
ABOUT CHRISTKINDLMARKT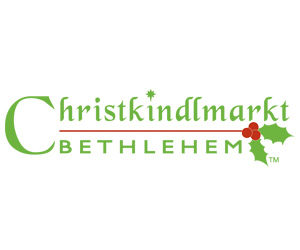 Christkindlmarkt, Bethlehem is an arts and crafts market modeled after Europe's open-air holiday marketplaces. Set under large heated tents, this marketplace has vendors that offer everything from the edible to the wearable and everything in between including Christmas ornaments, Nutcrackers and artwork. There is plenty of entertainment for the kids – St. Nick has been known to visit – and there is much to keep even the most seasoned of shoppers interested. This experience has become a favorite holiday tradition in Bethlehem and beyond. In 2006, Travel and Leisure magazine named it one of the top holiday markets in the entire world. 
Over the past two decades, Christkindlmarkt Bethlehem has delighted more than one million guests from near and far with its mix of unique gift ideas, old-world charm and holiday cheer. This dynamic festival celebrates the magic of the holidays with a five-week run that features more than 125 vendors each week.
Christmas City
In 1937, the Bethlehem Chamber of Commerce started a nationwide letter writing effort to 2,500 Chambers of Commerce asking each of them to notify their local newspapers of the campaign to make Bethlehem, Pennsylvania "the Christmas City". It was suggested that people throughout the country send their Christmas cards to Bethlehem to receive the "Christmas City" cancellation. Most of the Chambers participated and more than 185,000 pieces of mail inundated the Bethlehem Post Office.
The "Citizens" Form a Committee
In the 1960's the Citizens Christmas City Committee (of the Chamber of Commerce) was formed to help dignify the look of Christmas in the City of Bethlehem while at the same time absorbing a fair share of the costs of bringing Christmas to the public. The Committee continues to raise over $15,000 every year with efforts such as the Christmas City Seal to help purchase over 800 trees that will be lit during the Christmas season. Sparkling white lights adorn those trees in the Historic Moravian District and beautiful, LED colored lights have been placed in the trees in the SouthSide Arts District. For more about the Citizens Christmas City Committee and how you can help please go to:www.bethlehemtraditions.com.
Christmas City USA
It literally takes a village to bring Christmas to Bethlehem's residents and visitors. The merchants in both downtowns, the Downtown Bethlehem Association (DBA), work very hard to make it attractive for visitors to stroll through their shops. Doors are festively decorated, beautiful window displays beckon and there is even a "Live Advent Calendar" with a different merchant coming out of the door at the Goundie House on Main St. every night at 5pm with a "treat" for whoever is waiting at the door. For more information go to www.bethlehemtraditions.com.
The Historic Bethlehem Partnership (HBP) has Christmas-themed walking tours, bus tours and carriage rides to give visitors a historic experience. The costumed guides will lead the way to their museums that are decorated as they would have been when the Moravians first walked through these streets in the 17 and 1800's.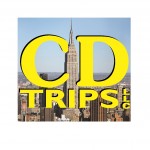 For more information

 CONTACT US